Cyberserenity about ART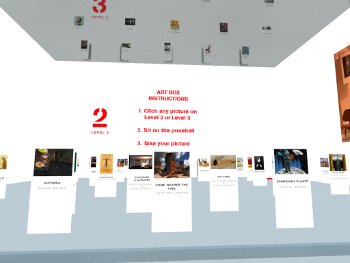 I found this place by pure chance. You can select any artbox and take a picture. I played around with it fore a while. Lot of fun http://maps.secondlife.com/secondlife/Klaw/4/19/46
I like places that do things.
Found this gallery close to mine. Nice pictures from Second life.
http://maps.secondlife.com/secondlife/Tabula%20rasa/241/86/27
I found thids empty gallery next to my own. Are the between shows or is it a installaton.
I do not know but i liked it anyway. The plant is really something.